The Influence of the "Impartial Review"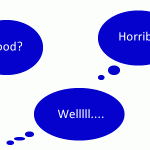 Big retailers like Amazon have found that customers are being influenced more and more by the reviews of their products provided by other purchasers. Customer reviews are seen as being impartial, and reflect how the item in question is used in real life rather than ideal test conditions.
Naturally if you sell something and ask for reviews, you're going to hope that those reviews will be a glowing tribute to the fantastic object just bought, and the superb service of the wonderful firm that sold it! Alas this won't always be the case.
So why use a forum for collecting feedback?
Well the one thing about straightforward star ratings or quick reviews is that with some systems it's difficult to respond. Ideally (and remembering that this could take time) you will want to use a Feedback Forum as a two-way conversation with your customers. Got positive feedback? Thank them and promise to keep up the good work. Got negative feedback? Well if it's justified, apologise and explain how you're going to do better. That makes you look human and genuine, likely to increase trust. If the complaint isn't justified, at least you have the chance to put your side of the story.
But what if all I get is "moan moan moan"
Ouch. It could happen, and it's not nice to be on the end of a moan. But do remember that if it's a moan on your forum, you can see it, you have a chance to respond to it, and importantly, it's telling you something you badly need to know about your products or services. In this Web 2.0 world, if your customer can't tell you about their bad experience, you can be sure that they're telling everyone else on Twitter, Facebook, or in extreme cases, the blog they've created specially for all your other dissatisfied customers to complain on! Think I'm exaggerating? Think again. I've seen just such a blog (generally to do with broadband.  *sighs*)
The saying "A complaint is an opportunity" applies
As with more traditional customer complaint handling, you can use the way you deal with forum feedback as a driver to making improvements to your products or to the way that you operate. Tell the customers through your forum and website what you've done! Now instead of just being any old supplier, you are a supplier with a human face who really cares about what customers think, responds positively to problems, and looks for opportunities to improve.
Do be careful to monitor comments and screen out gratuitous filth
Sadly not everyone is going to complain in a considered, rational and polite manner and you don't want to put other users off reading your forum… Make sure you have clear forum rules about use of bad language and personal insults (ie not allowed!) and do avoid getting into libel difficulties. If the rules are clear, you can go in and edit posts to clean them up or delete if really off the wall. Do remember to explain why though.
Seek opinions on new products or features
If you're worried about having to spend a lot of time moderating a feedback forum, you could open one for a limited time, purely as a way of canvassing views about new products. You could ask if there are missing features, or what  people think about the existing products. Although you could run a survey instead, using a forum allows you to go in and perhaps ask follow-up questions to clarify the points people make.
Many ways to use feedback
I hope I've convinced you that a feedback forum could have a place in your business. If you're interested in implementing one, do contact me, Caroline Hogarth, at Sort Out Your Site.